Posted by:
admin
in
uncategorized
, tags:
chocolate
,
recipes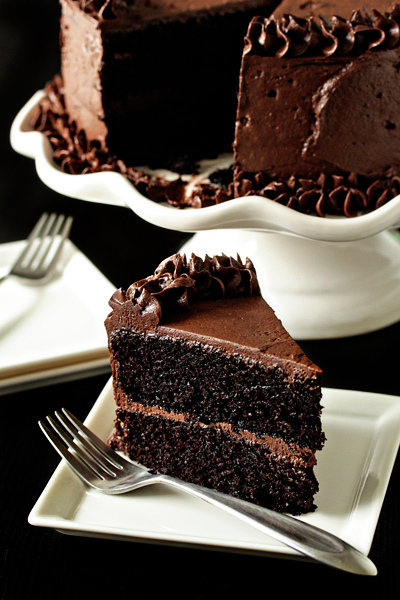 2 cups sugar
1 3/4 cups all-purpose flour
3/4 cup unsweetened cocoa powder
2 teaspoons baking soda
1 teaspoon baking powder
1 teaspoon kosher salt
2 eggs
1 cup buttermilk (*)
1 cup strong black coffee
1/2 cup vegetable oil
2 teaspoons vanilla extract
(*) Buttermilk can be substituted by adding 1 tbsp vinegar to 1 cup milk and letting stand for 5 minutes.
DIRECTIONS:
1. Heat oven to 175C. Grease and flour two 9-inch round baking pans. Set aside.
2. In the bowl of a stand mixer fitted with the whisk attachment or in a large bowl with an electric mixer, combine the sugar, flour, cocoa, baking soda, baking powder and salt. Mix on low until dry ingredients are thoroughly combined. Add eggs, buttermilk, coffee, oil and vanilla. Beat on medium speed for about two minutes; the batter will be thin. Pour batter evenly into prepared pans.
3. Bake in preheated oven for 30 to 35 minutes or until wooden toothpick inserted in center comes out clean. Cool 10 minutes; remove from pans to wire racks. Cool completely.
4. Frost as desired. You can either use the coffee mascarpone filling as described below or glaze with a simple ganache.
Coffee mascarpone filling/icing
500g tubs mascarpone
85g golden caster sugar
4 tbsp very strong coffee
50g dark chocolate, for grating
Beat the mascarpone and sugar together, then beat in the coffee. Use half the mix to sandwich the cakes and spread the other half over the top, swirling with the back of a spoon to make pointy curls. Finely grate the chocolate over the top, then serve.