Posted by:
admin
in
uncategorized
, tags:
recipes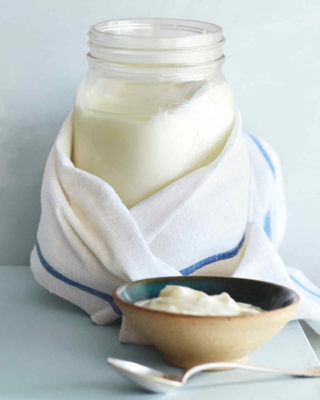 Yogurt making is so simple that it should become part of a weekly routine. All that is required is to heat a pot of milk until it steams, let it cool down a bit, and stir in some yogurt to act as a starter. Then leave the pot in a warm place to ferment.
That's it.
During fermentation, the milk thickens into something delectably custardy and satiny smooth, with a clean, fresh, tangy flavor that is even better than the fancy artisanal stuff — a pretty big payoff for what ends up being about 10 minutes of active work.
Here are a few little tricks to make the process go seamlessly.
The first is to rub an ice cube over the inside bottom of the pot before adding the milk. This keeps it from scorching as it heats.
Next is that where the pot of milk ferments doesn't really matter as long as it's warm. Try placing it in a turned-off oven with the oven light on, in a corner swathed in a heating pad, on the countertop wrapped in a big towel, and tucked on the top of the fridge. They all work, though the warmer the spot, the more quickly the milk will ferment.
Once the yogurt thickens and you think it may be ready, taste it before you stick it into the refrigerator. If it seems too mild, let it sit out for another couple of hours to increase the tanginess. You can leave it for up to 24 hours at room temperature if need be without worrying about spoiling.
To make Greek yogurt, the finished yogurt is left to drain in a colander lined with cheesecloth.
INGREDIENTS
1l whole milk, the fresher the better
3 to 4 tbsp plain yogurt with live and active cultures
PREPARATION
Rub an ice cube over the inside bottom of a heavy pot to prevent scorching (or rinse the inside of the pot with cold water). Add milk and bring to a bare simmer, until bubbles form around the edges, ~90C degrees. Stir the milk occasionally as it heats.
Remove pot from heat and let cool until it feels pleasantly warm when you stick your pinkie in the milk for 10 seconds, 40C-45C. Transfer 1/2 cup of warm milk to a small bowl and whisk in yogurt until smooth. Stir yogurt-milk mixture back into remaining pot of warm milk.
Transfer to a 1L mason jar. Wrap jar (without lid) in 2 clean kitchen towels, completely covering sides and top. Let stand undisturbed in a warm place until yogurt has the consistency of custard, 4 to 12 hours. The longer it sits, the thicker and tangier it will become.
Refrigerate uncovered jar; when it's cool to the touch, about 30m-1h, screw on a tight-fitting lid.
To make moka yogurt:
1/3 cup strong brewed coffee
4 Tbsp cocoa powder
2 Tbsp sugar, or to taste (note: maple syrup is a great substitute! try 2-4 Tbsp)
Mix together and combine well, then mix in to 2 cups of yogurt.