Posted by:
admin
in
uncategorized
, tags:
recipes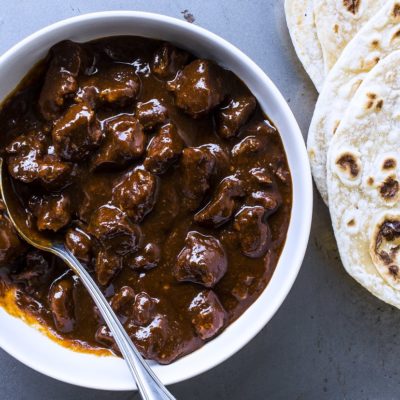 4 dried ancho chiles
2 dried pasillas
4 dried guajillo
1.5L chicken stock, separated
1 onion peeled and quartered
2 tsp ground cumin
2 tsp Mexican oregano dried
2 Bay leaves
1kg pork shoulder cubed
2 tsp kosher salt
1 tsp black pepper
2 tbsp vegetable oil
2 cups small white potatoes quartered
Remove the stems (and seeds if you want it milder in heat), from the anchos, pasillas, and guajillos. Cover chiles with 500ml boiling chicken stock and let them steam for about 30 minutes until they are tender. Put the chiles and all of the chicken stock, onion, cumin and Mexican oregano into a blender and purée until smooth. Set aside.
Cut the pork shoulder into half inch cubes, season with the kosher salt and pepper, and brown the meat in a large, stock pot over medium heat with oil.
Add the rest of chicken stock and bay leaves and simmer on low uncovered for one hour. Stir in the potatoes and chile purée. Simmer for another 45 minutes uncovered until the meat is tender and the sauce is a thick, deep red color. Season with additional salt. Serve with warm tortillas and some sour cream.