Posted by:
admin
in
uncategorized
, tags:
recipes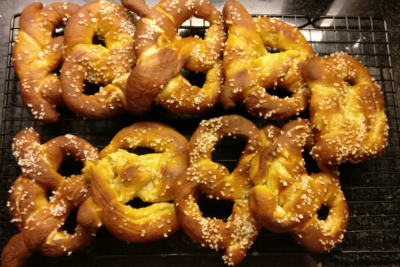 Makes 10 – 14
450g strong white flour, sifted
150gr strong brown flour, sifted
1 packet fast acting yeast
2 tbsp soft light brown sugar
1 tsp salt
1 tbsp vegetable oil
375ml warm water
For the bicarb solution:
75gr bicarbonate of soda
1 litre of water
Mix the two flours, salt, sugar and yeast in a large bowl. Make a well in the center of the dry mix. Mix the oil into the water in a measuring jug, and add in the well. Mix well to form a ball of dough. Add more water or flour where necessary to ensure it's not too dry or sticky. Knead for 10 minutes, place the dough in an oiled bowl and allow to rise to double, about 2 hours.
Preheat the oven to 230 degrees Celcius. Punch back the dough and knead on a lightly floured surface and then divide it into 10 – 14 balls, each weighing about 100gr. Line a baking tray with parchment. Roll each ball into a sausage shape the thickness of a pencil and then roll it into a pretzel shape. Allow to rise for a further 20 minutes.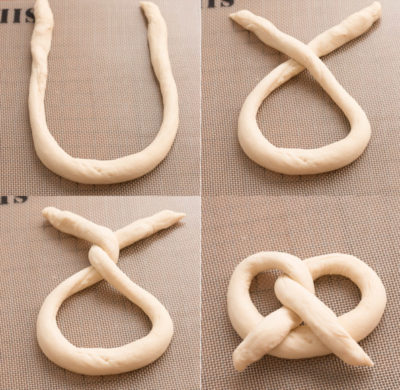 Bring the water to the boil in a saucepan and dissolve the bicarb in it. Leave it on a simmer and add each pretzel, no more than 3 at a time, to poach for 30 seconds each side. Remove and place on the baking trays. Sprinkle with rock salt, poppy seeds or sesame seeds and bake for 8 – 10 minutes, cooling them on wire racks. Alternatively, bake them plain and then brush with butter melted with sugar, honey and cinnamon.