Posted by:
admin
in
uncategorized
, tags:
recipes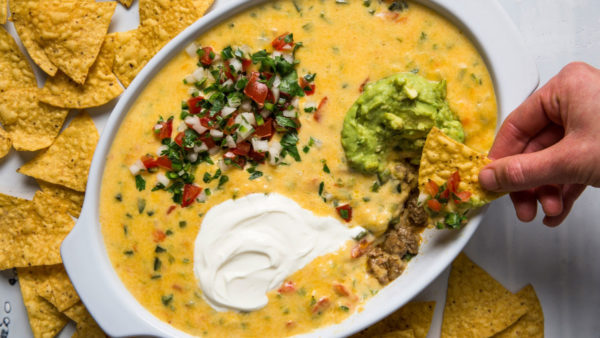 Picadillo
1 tbsp vegetable oil
500g ground beef (20% fat)
1 medium onion, chopped
1/2 green bell pepper, chopped
Kosher salt, freshly ground pepper
1.5 tsp ground cumin
1 tsp chili powder
1 cup chicken stock
Queso And Assembly
3 tbsp unsalted butter
1 medium onion, finely chopped
1 large poblano chile, chopped
3 jalapeños, finely chopped
2 medium tomatoes, chopped
Kosher salt
2 tbsp all-purpose flour
1.5 cups (or more) milk
200g Monterey Jack cheese, grated (or Muenster, Havarti or Gouda)
200g cheddar cheese, grated
Pico de Gallo, Guacamole, sour cream, chopped chives, chopped coriander, and corn chips (for serving)
Preparation
Heat oil in a large skillet over high. Cook beef, breaking up with a spoon, until browned on all sides but not completely cooked through, 6–8 minutes. Transfer to a medium bowl, leaving as much fat in pan as possible.
Reduce heat to medium and cook onion and bell pepper, stirring, until tender but not browned, 6–8 minutes; season with salt and pepper. Add cumin and chili powder and cook, stirring, until fragrant, about 1 minute. Add chicken stock and reserved beef along with any accumulated juices to pan. Bring to a simmer and cook, stirring and scraping up any brown bits from the skillet, until liquid is evaporated, 8–10 minutes; season with salt and pepper. Transfer to a medium bowl, cover, let sit until ready to use.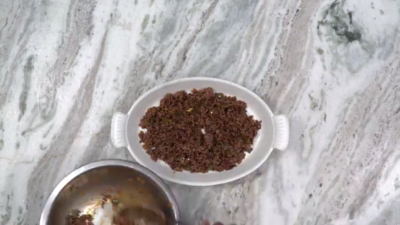 Melt butter in a medium saucepan over medium heat. Cook onion, chile, and jalapeños, stirring, until tender but not browned, 8–10 minutes. Add tomatoes, season with salt, and continue to cook until juices have evaporated, about 6 minutes. Stir in flour and cook until incorporated, about 1 minute. Whisk in milk and continue to cook until mixture comes to a boil and thickens, about 4 minutes. Reduce heat to low, gradually add both cheeses, and cook, stirring constantly, until cheese is completely melted and queso is smooth. If it seems too thick, stir in a little more milk.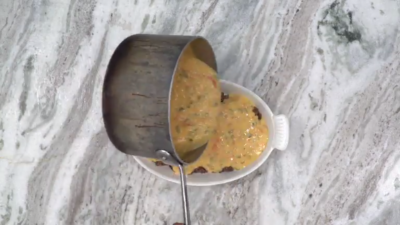 Spread warm picadillo in a 2-qt. baking dish. Pour hot queso over meat. Top with a generous scoop each of pico de gallo, guacamole, and sour cream. Sprinkle with chives and cilantro. Serve hot dip with chips.